25g balls Very thin Gold Sparkly Lurex Type yarn knitting wool Glitter Sparkle Use alongside another yarn to add sparkle
---
25g balls Very thin Gold Sparkly Lurex Type yarn knitting wool Glitter Sparkle Use alongside another yarn to add sparkle
£2.60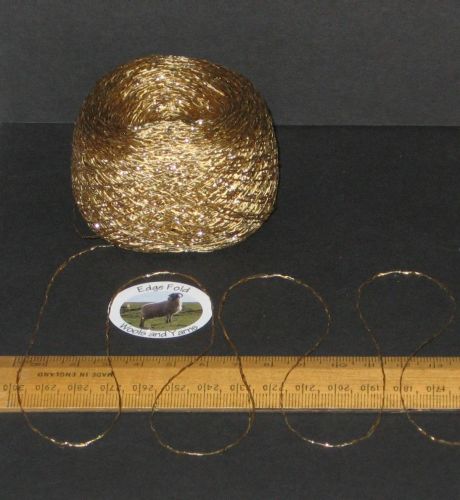 25g ball of very, very thin Sparkly yarn in Gold, Viscose & Polyester. Designed to be used alongside another yarn to add a delicate glittery sparkle to your work. Also great for adding a delicate shimmer to Weaving, Embroidery, Embellishing, Collage, Card Making, Scrap Booking, Journaling, Tassel Making, Braiding, adding to Felting etc. Perfect for Christmas, Birthday, Celebration items or to liven up everyday items!
The yarn is constructed with a very thin middle strand, with a crimped/crinkled strand around it which catches the light delicately. Because of the texture, on its own in a ball, it is not very soft, but when paired with another yarn this reduces significantly. Approximately 325m per 25g ball. Machine washable with care, up to 30°C
** Postage within UK is £3.50 for however much wool/yarn you buy **
*** WATCH THIS SPACE! *** *** Lots more colours arriving very soon ***
Brand new. The yarn is wound on wool winder, no ball bands/labels. All balls are from the same dye lot, batch etc. (I have tried to show the colour, texture and thickness as accurately as possible in the photo. It looks accurate on my screen but all screens vary. I am happy to send a short length of any of my wools/yarns as a sample so that you can see the colour, texture and thickness before you decide. Just send me a SAE and let me know which yarns you would like a sample of).
If you have any questions, please contact me: [email protected]
For more wool and yarn, please have a look through the shop ~ lots more top quality British yarn all processed and spun in Yorkshire.