100g balls of 'Chaffinch' Brown Cream & Red Thick & Thin wavy knitting wool & acrylic yarn 4 ply Mottled shade
---
100g balls of 'Chaffinch' Brown Cream & Red Thick & Thin wavy knitting wool & acrylic yarn 4 ply Mottled shade
£3.20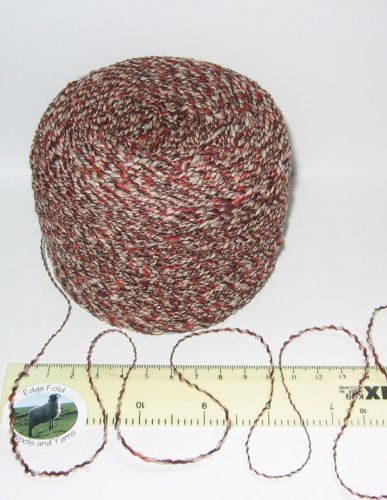 100g ball of 'Chaffinch' a mottled wool and acrylic wavy yarn in shades of Brown, Cream and an Orangey Red. A 4 ply Marl yarn with a thick and thin texture which can be seen in the photo.
Perfect for a wide range of items . . . clothes, accessories, toys or something stunning for yourself.
Machine washable up to 40 degrees. 4500nm, Approximately 450m per 100g ball. Colour: 112, Batch: 205573, Brand new, direct from the mill. Wound on wool winder. No ball bands/labels. Lots of balls available
(I have tried to show the colour and thickness as accurately as possible in the photo. It looks accurate on my screen but all screens vary). I am happy to send a short length of any of my wools/yarns as a sample so that you can see the colour, texture and thickness before you decide. Just send me a SAE and let me know which yarns you would like a sample of.
If you have any questions, please contact me: [email protected]