Hand Knitted 7cm Red Poppy Flower Remembrance Day All Profits to Royal British Legion
---
Hand Knitted 7cm Red Poppy Flower Remembrance Day All Profits to Royal British Legion
£5.75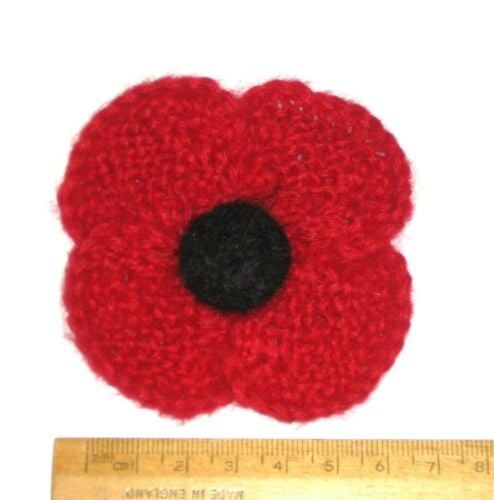 Free p+p within UK
This Red Poppy brooch is made from a slightly fluffy British acrylic yarn with felted black yarn used to make the centre. Handmade by me, Elaine at Edge Fold, to my own design. All profits from the sale of the poppy will go directly to the Royal British Legion. (I do not profit from the sale of the poppies. Once fees, postage & costs have been paid, all profit is donated to RBL).
Please note: Because this is a handmade item, it may vary slightly from the photos.
The Poppy is hand knit to my own pattern, then sewn together. Knit, sewn and completed by hand. Perfect for pinning onto a dress, coat, top, bag, hat, sweater, jacket, scarf, etc.
The brooch measures approximately 7cm across. A brooch back, with safety catch, is carefully stitched onto the reverse. Pictured on a plain white background.

I have LOTS of handmade Poppies available at the moment, some with leaves and a stem, some without. Please have a look in the 'Handmade Corsages/Brooches' section of the shop. All profits from the sale of each Red Poppy goes to Royal British Legion and from the sale of each Purple Poppy goes to Murphy's Army Charity.

I have tried to show the colour as accurately as possible in the photos. It looks accurate on my screen but all screens vary. I am happy to send you a short length of the wool the corsage is made from in case you need to see the colour before deciding. Just send me a SAE.
Different handmade flower corsages listed in a wide range of colours and sizes. Please have a look at my other items. If you are looking for a corsage in a colour you don't see in my shop, please ask. I make corsages to order and will list one for you.
If you have any questions please email me:
[email protected]