50g balls of Ebony Black Burgundy & Green Marl 3 ply Cotton yarn knitting wool
---
50g balls of Ebony Black Burgundy & Green Marl 3 ply Cotton yarn knitting wool
£2.50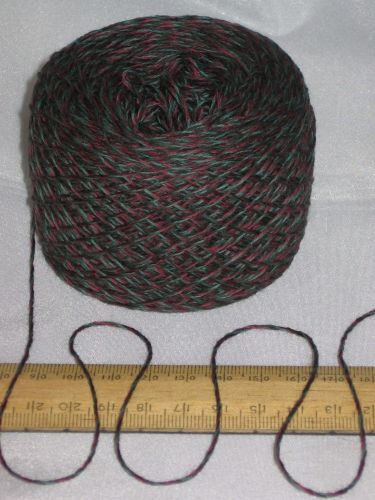 50g ball of Cotton Marl 3 ply yarn in a shade called 'Ebony, Burgundy & Green Marl'.
A really lovely 3 x 2 Marl yarn, made up of one pair of ebony, one pair of burgundy and one pair of green, lightly twisted together. Perfect for making clothes, accessories, dolls items, Christmas items etc etc etc. One customer assures me it's great for knitting trousers for teddy bears and dungarees for knitted rabbits!!
3x2/27nm Ref: JS962 Colour: R12938 Batch: 6647 Approximately 225m per 50g ball.
(I have tried to show the colour as accurately as possible in the photos. It looks accurate on my screen but all screens vary). I am happy to send a short length of any of my wools/yarns as a sample so that you can see the colour, texture and thickness before you decide. Just send me a SAE and let me know which yarns you would like a sample of.
Brand new yarn, wound on wool winder. No ball bands/labels.