50g ball of 'Country Cottage' Green Red Purple Blue Yellow 2 ply boucle loop Wool & Acrylic knitting yarn
---
50g ball of 'Country Cottage' Green Red Purple Blue Yellow 2 ply boucle loop Wool & Acrylic knitting yarn
£2.55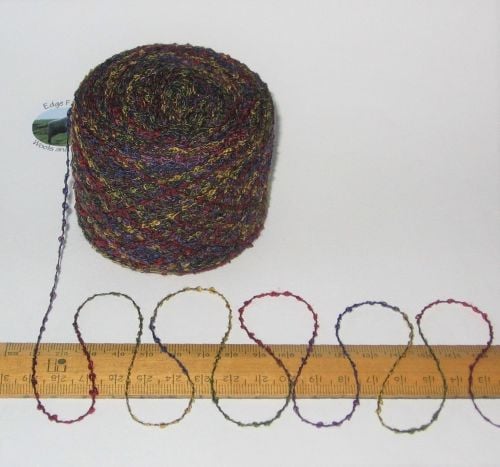 50g ball of Boucle Loop Wool, Acrylic & Nylon yarn. 'Cottage Garden' a 2 ply thickness yarn in Shades of Green, Deep Red, Purple, Blue & Yellow, with a darker binder thread. The colour changes every couple of inches or so.
Lovely yarn, perfect for a wide range of items . . . dolls' clothes, miniatures or something gorgeous for yourself or your home. Gorgeous used on its own or can add interest when paired with something else.
1/7.5nm 2 ply thickness. Or use it double to knit as 4 ply. Shade: Country Cottage, 5120, Batch: H28332, Approximately 375m per 50g ball.
Quality British yarn ideal for knitting, crochet, craft etc. Machine washable on a cool cycle.
Brand new. The yarn is wound on wool winder. No ball bands/labels.
(I have tried to show the colour and thickness as accurately as possible in the photos. It looks accurate on my screen but all screens vary). I am happy to send a sample of any on my yarns, so that you can see/feel them before deciding. Just send me an SAE and a note to tell me which yarns you would like a sample of.
If you have any questions, please feel free to contact me:
[email protected]