100g balls of Brown Super Chunky 100% Pure British Wool for knitting or rug making EFW 408
---
100g balls of Brown Super Chunky 100% Pure British Wool for knitting or rug making EFW 408
£3.30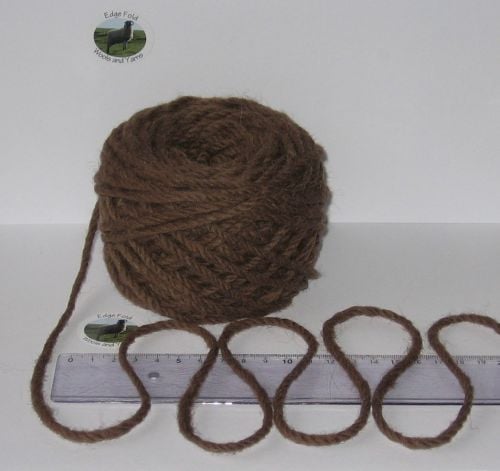 100g ball of a gorgeous Brown British Breed 100% Wool, Thick Chunky thickness. Brand new, quality 3-fold wool ideal for knitting, crochet, weaving, rug making, macrame or craft projects. It has a natural wool texture so is ideal for jumpers, cardigans, jackets, bags, cushion covers, throws, blankets etc etc etc. Knits on 8mm - 9mm needles. Approximately 44m (48 yards) per 100g. Shade EFW 408 Balls are wound using wool winder. No ball bands/labels. Also listed separately on cones.
Please Note: This wool has a rustic, natural texture. It is NOT superwash wool and is therefore not as soft as superwash wools can be. (Superwash wool is softer because the wool has been placed in an acid bath to remove the 'scales' from the fibre. It is then coated with a polymer which means the wool can be machine washed without shrinking. The texture of this 100% British Sheep Wool is much more natural; it still has its scales as it hasn't been treated with acid nor coated with polymer; much kinder to the environment!

I have tried to show the colour, thickness and texture as accurately as possible in the photos. It looks accurate on my screen, but all screens vary. I am happy to send a short length of any of my wools/yarns as a sample so that you can see the colour, texture and thickness before you decide. Just send me a SAE and let me know which yarns you would like a sample of.
Please have a look at my other items ~ lots of lovely quality British wool and yarn, including lots more gorgeous shades of British Breed Wool, pure Swaledale wool, pure Jacob wool, wool tweeds, 100% Berber Wool (Chunky) . . . and LOTS more!
Postage within UK for any number of balls/100g cones of wool or yarn from any listing is £3.50