50g in 10 Small balls of 4 ply Acrylic flat Chenille knitting wool yarn fly tying 2mm Pack 2
---
50g in 10 Small balls of 4 ply Acrylic flat Chenille knitting wool yarn fly tying 2mm Pack 2
£3.30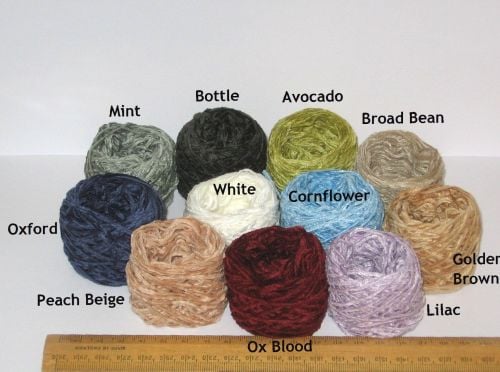 Approximately 50g in total in 10 small balls of flat design 4 ply Acrylic Chenille Yarn. Approximately 170m in total per pack.
Balls weigh between 3g-10g and each pack will have at least 10 balls in the shades shown in the photos: 2mm in width: Lilac, Ox Blood, Peachy Beige, White, Oxford Blue, Cornflower Blue, Golden Brown, Broad Bean, Avocado, Bottle Green.
Brand new, fantastic quality British yarn ideal for a wide range of uses: decorating items, embellishments, weaving or fly tying. Machine washable. Knits on 2¾mm - 3¼mm needles depending on tension. Great used on its own or as a trim or feature yarn with another yarn. Each colour is also listed separately in 50g balls. Brand new, direct from the mill. Wound on wool winder, no labels.

(Packs in other colours are listed separately):
Pack 1: Black, Dark Brown, Terracotta Brown, Burnt Orange, Clementine Orange, Red, Silver Grey, Turquoise Green, Purple Aubergine, Rusty Red
Pack 3: Shades of Blue: Sky, Ink, Hyacinth, Periwinkle, Bermuda, Oxford, Cornflower, White

Pack 4: Shades of Brown & Beige: Champagne, Peach, Fawn, Gold 224, Mortar, Catkin, Mink, Cabinet, Terracotta, Dark Brown
Rainbow Colours: Cherry Red, Clementine Orange, Primrose Yellow, Pine Tree Green, Periwinkle Blue, Inky Blue, Violet Purple
(I have tried to show the colours, texture and thicknesses as accurately as possible. It looks accurate on my screen, but all screens vary). I am happy to send a short length of any of my wools/yarns as a sample so that you can see the colour, texture and thickness before you decide. Just send me a SAE and let me know which yarns you would like a sample of.
If you have any questions, please get in touch.
Postage within UK is FREE. Packs will be sent as a Large Letter and will therefore be packed so that they are as thin as possible.