100g balls of Terracotta Rust Brown 4 ply Acrylic flat Chenille knitting wool yarn
---
100g balls of Terracotta Rust Brown 4 ply Acrylic flat Chenille knitting wool yarn
£3.20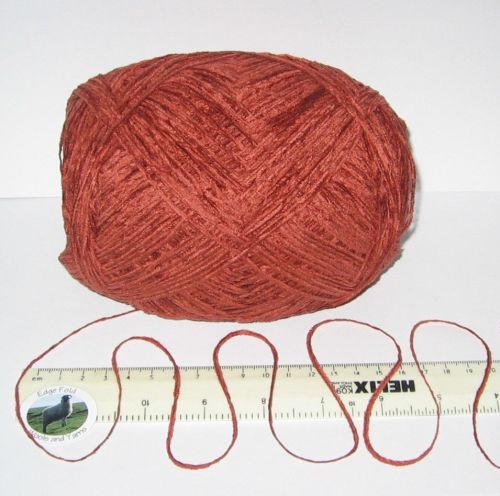 100g ball of 4 ply Acrylic Chenille Yarn in a beautiful, rich shade of 'Terracotta' Rust Brown. Flat Design. Brand new, fantastic quality British yarn ideal for knitting, crochet, weaving or craft projects. Perfect for a wide range of garments, accessories, clothes, items, toys, hats, cushion covers, throws etc. Machine washable.
Also listed in packs, which work out cheaper.
Other shades available from the same range:

In 4 ply thickness: Black, White, Dark Brown, Terracotta Brown, Burnt Orange, Clementine Orange, Cherry Red, Turquoise Green, Bottle Green, Pale Green, Navy Blue, Sky Blue, Pale Blue, Purple, Gold.
In Double Knitting thickness: Opulent Rusty Red, Purple Aubergine.
Brand new, direct from the mill. If you have any questions, please get in touch.
(I have tried to show the colour, texture and thickness as accurately as possible. It looks accurate on my screen, but all screens vary). I am happy to send a short length of any of my wools/yarns as a sample so that you can see the colour, texture and thickness before you decide. Just send me a SAE and let me know which yarns you would like a sample of.