60m 20 x 3m Variety Pack Pink knitting wool yarn Craft Weaving Oddments Bundle
---
60m 20 x 3m Variety Pack Pink knitting wool yarn Craft Weaving Oddments Bundle
£3.30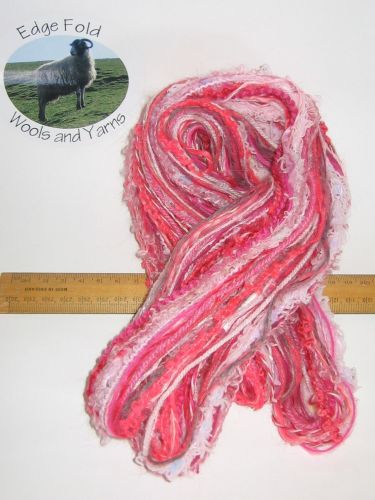 Free Postage within UK

20 x 3m Lengths of a Variety of Yarns in Shades of Pink, as shown in the photo. (Yarns may vary slightly depending on availability). 60m in total per pack.
This pack contains one 3m length of each of the 20 different yarns, varying from very, very thin to Chunky thickness, in a mixture of textures, shades and fibre compositions.
Included are Mohair Loop, Pure Wool, Acrylic, Viscose, Cotton, Boucle, Wavy, Brushed etc.
These packs are great for Weaving, Embroidery, Embellishing, Collage, Card Making, Scrap Booking, Journaling, Tassel Making, Braids, adding to Felting etc.
(I have tried to show the shades, textures and thicknesses as accurately as possible. It looks accurate on my screen, but all screens vary).
Should you need more, most of these yarns are listed separately in 50g or 100g balls. Brand new British Yarns, direct from the mill.
If you have any questions, please get in touch:
[email protected]

Free Postage within UK