10 x A15 Large Grey Mail Bags Parcel Sacks approx 16" x 20" 400mm x 500mm
---
10 x A15 Large Grey Mail Bags Parcel Sacks approx 16" x 20" 400mm x 500mm
£3.80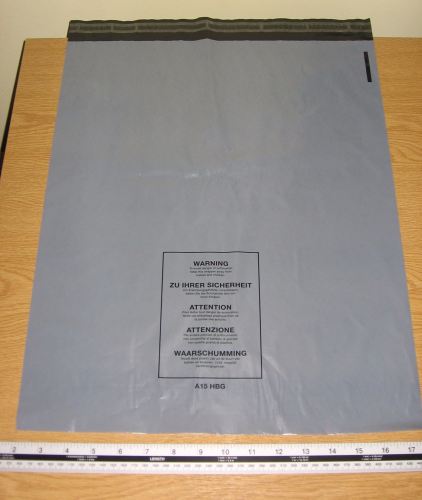 10 Large Mail bags, approx. 400mm wide x 500mm tall (Just a little less than 16" x 20") with a 40mm (1.5") lip. D

egradable plastic.
I also have packs of 5, 25, 50, 100, 250 and 500 of this size of bags listed separately.
Several other sizes of mail bags listed too.
50 micron really strong C

o-ex material:
Mid Grey on the outside which is easy to write on in biro or marker pen, stick address labels to, postage labels etc. etc.
Black Inside, meaning no-one can see what's packed inside!
A safety warning notice (danger of suffocation etc.) is printed on the reverse. On most it is in English, on others it is in 5 languages, including English. Photo shows 5 languages.
Strong
weatherproof bags with a p
ermanent self adhesive 'Peel and Seal' strip. Quick and easy to use. Perfect for posting a wide variety of items. Once they're sealed, they're sealed! The only way to open them is to rip or cut them. Tamper proof.

There may be a few slight crease marks in the plastic of these bags, from the manufacture. They still work perfectly!
Wherever possible, all my items will be posted within 24 hours of me receiving payment (or of cheque clearing if you pay by cheque).