100g 100% pure British undyed Swaledale Medium Chunky knitting wool Cream Grey
---
100g 100% pure British undyed Swaledale Medium Chunky knitting wool Cream Grey
£3.60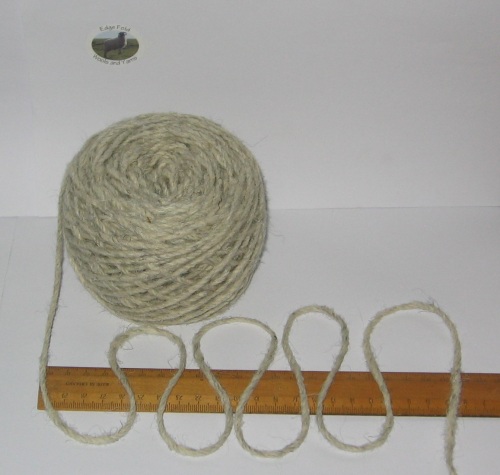 100g ball of 100% pure British Swaledale wool, Medium Chunky thickness, 3 fold wool. Completely natural and undyed. I have tried to show the colour and thickness as accurately as possible in the photo. It looks accurate on my screen but all screens vary.
Brand new, superb quality wool ideal for knitting, crochet, weaving, rug making, craft or felting projects.
It has a rough, natural texture and is undyed ~ this is the natural Swaledale colour ~ cream with tiny flecks of grey. Smells wonderfully 'sheepy'! (Smell disappears after the first gentle wash).
Several balls available in this listing. See above to check how many are left.
Swaledale wool is warm, hard wearing and non-fading. Wound on wool winder. No ball bands/labels. Approximately m per 100g ball.
Although I haven't tried it myself (a friend has) this wool can be dyed and takes the dye very well.
Aran thickness and Thick Chunky thickness Swaledale Wool are also available.
:o) Please have a look at my other items ~ lots of top quality British wool and yarn . . . I also sell 100% pure Jacob wool, British Breed double knitting, aran and Chunky wools, wool tweeds . . . and lots more!
:o) Please note I keep post and packaging charges as low as possible :o)